19.03.2020
​AMD processor servers are available now
ISPserver offers dedicated servers with AMD Ryzen processors now. The following configurations are available:
AMD Ryzen 7 3700X 3.6-4.4GHz, 8 cores, 32 MB cache memory
AMD Ryzen 9 3900X 3.8-4.6GHz, 12 cores, 64 MB cache memory
AMD Ryzen servers support up to 128Gb ECC memory and up to 6 hard drives at a time. HDD, SSD, NVME drive types are supported.
AMD was the first company using use the 7nm technology. Thanks to the advanced architecture, the number of transistors per crystal reached almost 10 bln pcs and the working frequency increased. Processor cores in AMD Ryzen interact directly with each other without addressing to a cache memory, making data transfer almost instant.
AMD is a great combination of high efficiency and nice prices. AMD Ryzen has a better performance compared with Xeon E5, while its pricing is about the same as Intel Xeon E product line. The processors are assembled from several components instead of a monolith crystal. This allows manufacturers to cut production costs.
In December 2019, we made a special test to compare the performance of different servers with AMD Ryzen, Intel Xeon E5, and Intel Core processors. Geekbench Multi Turbo tests demonstrated the best performance index for AMD Ryzen 7 3700 and AMD Ryzen 9 3900X — these processors are a great choice for multithread tasks.
The test results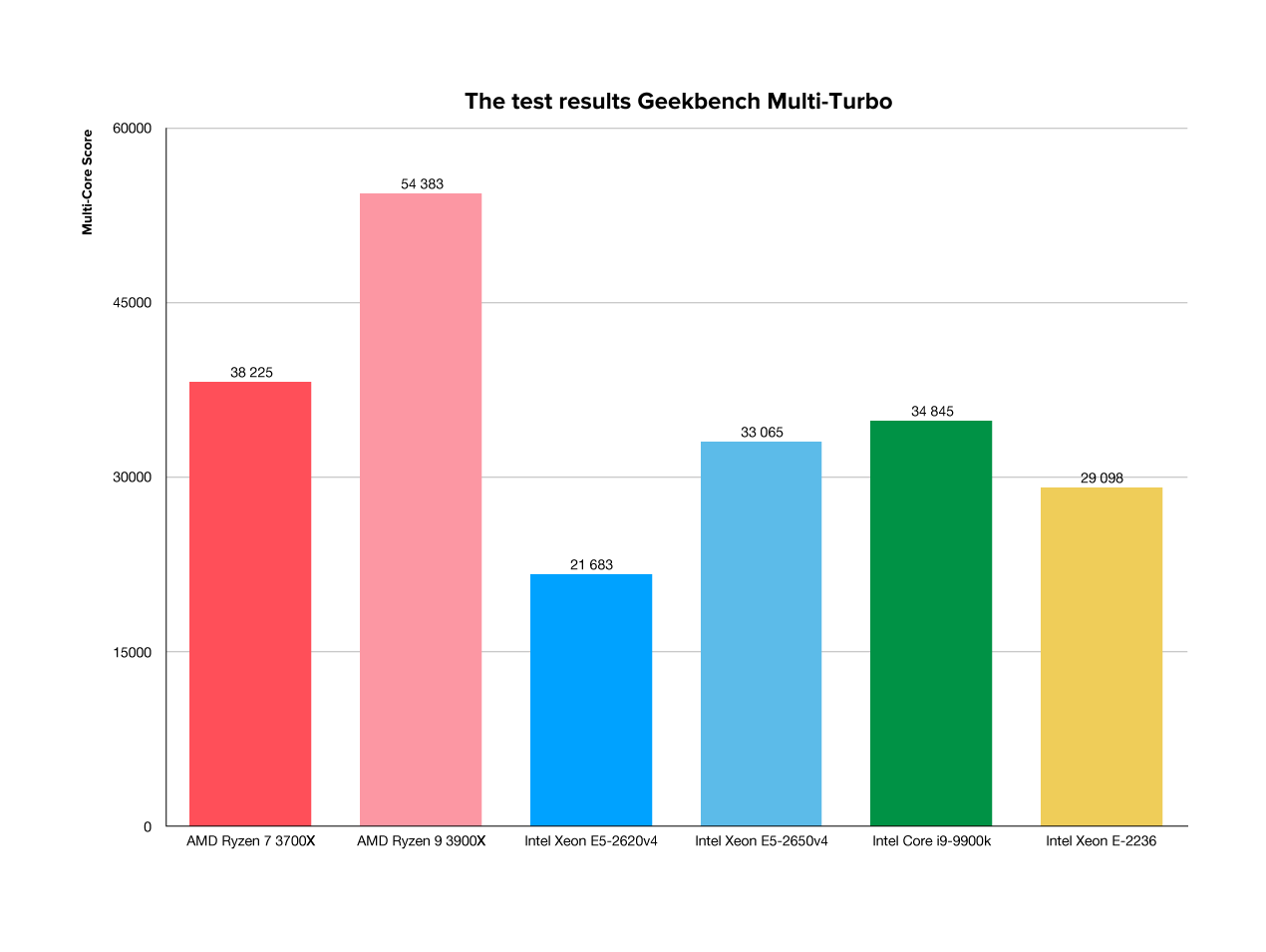 Configure a server with a fast AMD processor and get ISPmanager control panel for free.