Failover Cloud Server
No downtime means no financial loss
Forget about downtime! With failover cloud server your project will always be up and running.
Cloud VPS is built with redundancy in mind. User data and physical nodes of the system are constantly replicated within the cloud. Data replication allows to keep your websites up on another server should any part of the cloud fail.
Cloud server
SSD
Virtual disk
in the storage cluster
VM
Virtual machine
in the computing cluster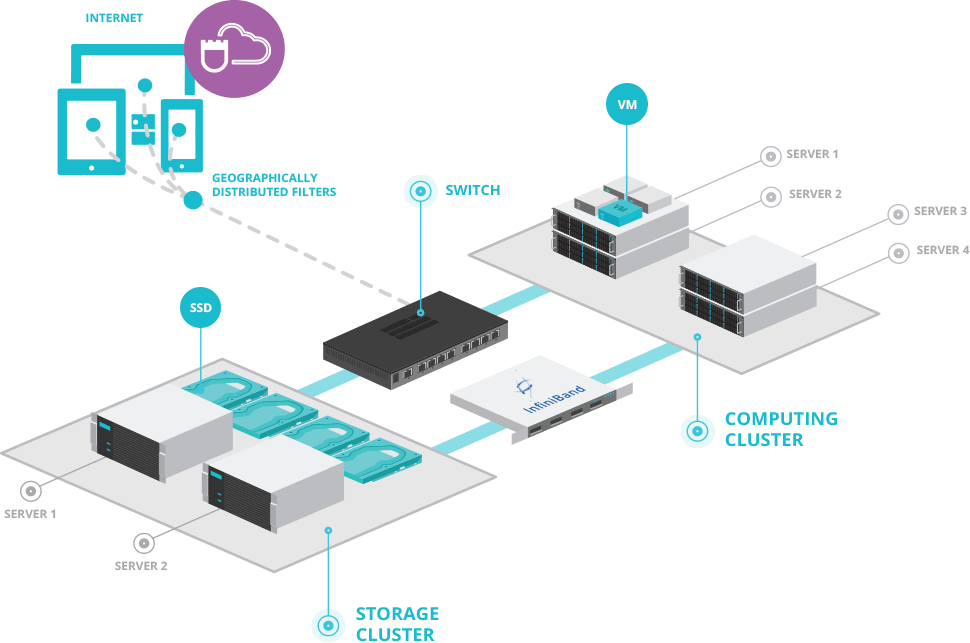 Infiniband — a 56 gbit/s network with a latency of 0,7 ms.
Two clusters exchange information as if they are located on one physical server.
Storage cluster contains user data from all the virtual machines. A distributed redundant system enables to automatically recover information in the event of system failure. Data in the storage will be available whenever you need them.
Virtual machines are running in thecomputing cluster. If a cluster node fails, virtual machines will be automatically restored on available nodes.
Cloud Server
More details
Traffic
Unlimited traffic 100 Mbit/s - free
or
Port 1 Gbit/s - 32 Tb included free (3€ per Tb over limit)
Processor
Intel Xeon
CPU frequency
not less 2.4 Ghz
SSH root access
Dedicated IPv4
free
| | |
| --- | --- |
| Additional IPv4 | 3 €/month |
| IPv6 | 0.05 €/month |
| Provider name server | ns1.ispvds.com, ns2.ispvds.com |
| Operating systems | Ubuntu, Debian, CentOS, AlmaLinux, FreeBSD |
| Windows Server 2016/2019 | 9.4 €/month per core |
| ISPmanager 6 Lite | 3.5 €/month |
| ISPmanager 6 Pro | 7 €/month |
| ISPmanager 6 Host | 10.5 €/month |
Fully managed servers
Our experienced engineers will make sure your hosting service is at its top performance. We'll tailor the server to your needs and install any mandatory software. You needn't worry if you had no prior experience maintaining a website, we'll do everything necessary for you, free of charge.
Server Configuration
We'll optimally prepare the server and configure the web environment.
Migration assistance
We'll transfer your data from another hosting provider and deploy the backups if necessary.
Troubleshooting
In case something stops working we'll find out why and fix it. We'll walk you through the steps for the same to not occur again, and offer our full assistance setting up additional software you may need. If you need customized software, we will provide you detailed installation instructions, or install it for you.
Software Installation
We'll install an operating system, additional server software and a CMS for you. Get in touch with the technical support to arrange the time.
Security Monitoring
We support our customers' needs to secure their data and protect their websites from intruders. Therefore, we help by setting up protection against DDoS attacks and switch to HTTPS protocol, by installing an SSL certificate, for data encryption.
70% of support requests
are solved within
15 minutes
We reply around the clock, 7 days a week
ISPmanager Control Panel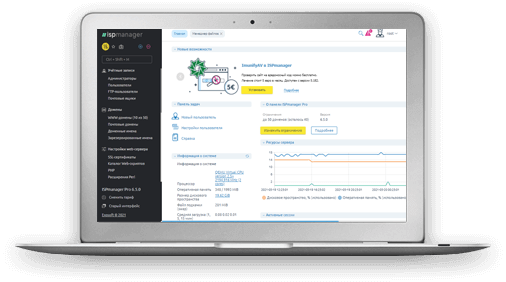 Enjoy your cloud server experience with the ISPmanager control panel, even if you're a beginner.
No command line knowledge required
Everything you need is available straight from the browser window: user and domain management, mail setup, backups creation, file upload, DNS, FTP, PHP, Databases and much more.
Learn more about the control panel
Install popular CMS in just 3 clicks
Install Wordpress, Joomla, Drupal and more in just 3 clicks, right from the control panel, and start creating a website.
Virus protection and removal
Website antiviruse ImunifyAV find and clean malicious code automatically, with no impact on server's efficiency. Easy to activate and set up in the ISPmanager control panel. Module do not restrict the amount of checked websites. How to activate and use the antivirus?
No downtime - no financial loss
Our system is built with redundancy. User data and physical nodes of the system are constantly duplicated. When one of the systems fail your project will be immediately restored on an available node.
Fast performance for your projects
Data transfer between clusters is maintained through a high speed 56 Gbit/s InfiniBand network. Read/write operations are done with an SSD. Sites are moved to a working node smoothly and high speed disks allow to access your projects immediately.
Independence from data-center maintenance
You no longer need to suspend your servers for maintenance. When one server is suspended, your project will run on another one. Users won't suffer any service downtime.