Dedicated server
Rent a dedicated server based on
Intel
and
AMD
processors in Germany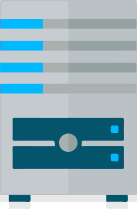 Dedicated server
Rent a dedicated server based on Intel processors in Germany
Reliable technology and modern equipment
We offer proven solutions based on
Intel Xeon E3, E5, Intel Core
and adopt new products:
Xeon E
and
AMD Ryzen
Server
DDoS protection
Optional DDoS protection available. We offer 95% guarantee against network-level DDoS attacks.
Expert technical support
Technical support team is available 24/7, free of charge. We offer fully managed bare-metal dedicated servers.
ISPmanager Control Panel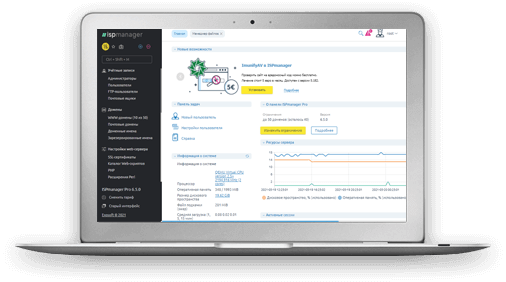 Enjoy your dedicated server experience with the ISPmanager control panel, even if you're a beginner.
No command line knowledge required
Everything you need is available straight from the browser window: user and domain management, mail setup, backups creation, file upload, DNS, FTP, PHP, Databases and much more.
Learn more about the control panel
Install popular CMS in just 3 clicks
Install Wordpress, Joomla, Drupal and more in just 3 clicks, right from the control panel, and start creating a website.
Virus protection and removal
Website antiviruses ImunifyAV (ex. Revisium, enabled in ISPmanager by default) and Virusdie finds and cleans malicious code automatically, with no impact on server's efficiency. Easy to activate and set up in the ISPmanager control panel. Moduls do not restrict the amount of checked websites. How to activate and use the antivirus?
Fully managed servers
Our experienced engineers will make sure your hosting service is at its top performance. We'll tailor the server to your needs and install any mandatory software. You needn't worry if you had no prior experience maintaining a website, we'll do everything necessary for you, free of charge.
Server Configuration
We'll optimally prepare the server and configure the web environment.
Migration assistance
We'll transfer your data from another hosting provider and deploy the backups if necessary.
Troubleshooting
In case something stops working we'll find out why and fix it. We'll walk you through the steps for the same to not occur again, and offer our full assistance setting up additional software you may need. If you need customized software, we will provide you detailed installation instructions, or install it for you.
Software Installation
We'll install an operating system, additional server software and a CMS for you. Get in touch with the technical support to arrange the time.
Security Monitoring
We support our customers' needs to secure their data and protect their websites from intruders. Therefore, we help by setting up protection against DDoS attacks and switch to HTTPS protocol, by installing an SSL certificate, for data encryption.
70% of support requests
are solved within
15 minutes
We reply around the clock, 7 days a week
99,9% Uptime Guaranteed
Our hosting services are rendered strictly in accordance to the Terms of Service.
We guarantee a refund set by the SLA.
Order dedicated server
Or choose a ready server from the list above or configure your own.
Click "Order" and go to the client area for registration and purchase.
Once the service is paid for, access details will be emailed to you.