Introduction to hosting control panels
ISPsystem company products are considered to be among the most convenient in hosting services control (hosting services management, personal accounts control, domain and website management, etc.). We offer the following ISPsystem software, we also provide CPanel as an alternative control panel on our shared hosting services :
BILLmanager: a billing control panel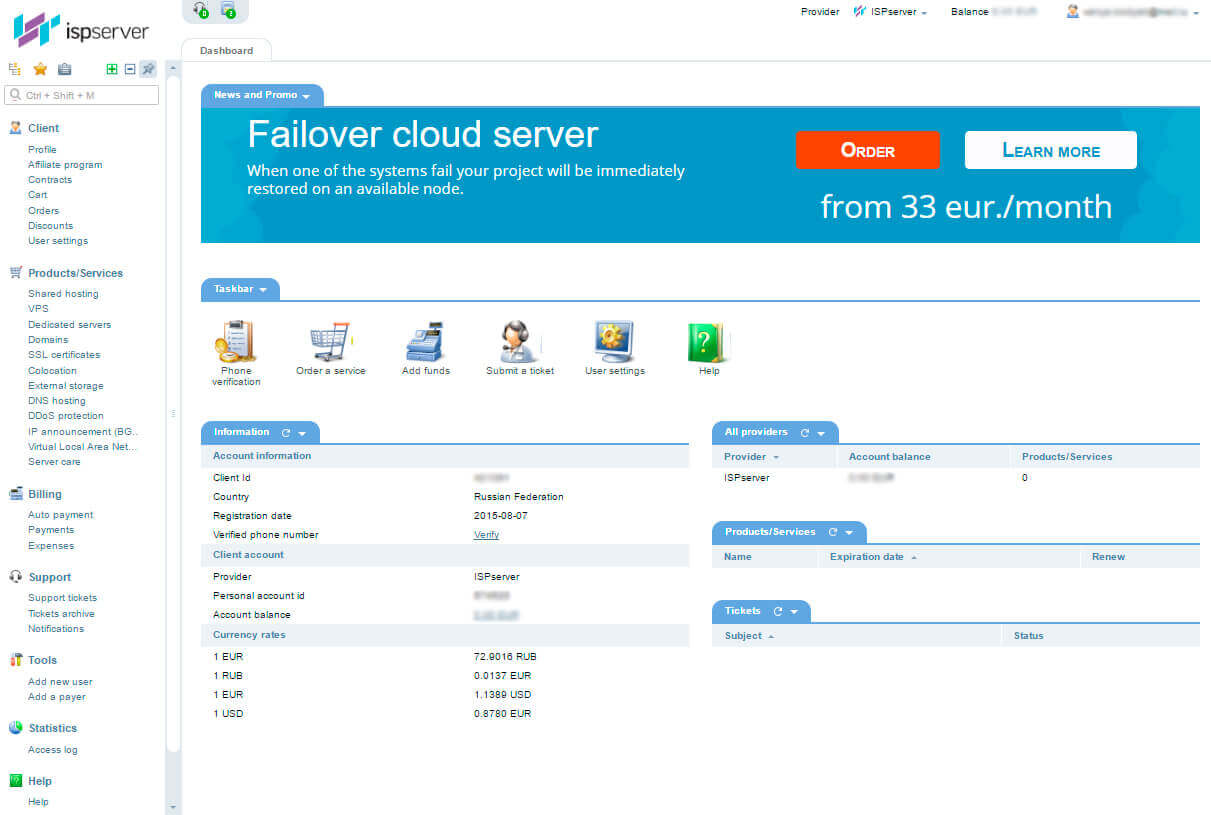 BILLmanager is your personal space when using our services – the client area. There you can manage personal details and financial information, order, renew or cancel services, contact technical support through the ticketing system. You will be forwarded to BILLmanager as soon as you have registered an account with us. Order hosting services in the Products/Services → VPS section, change a service's settings and the amount of allocated resources, pay for an order. The intuitive interface is easy to navigate.
In the Contracts you will find the original of the agreement.
If you have any questions or experience any difficulties, contact our support service professionals through the Support → Support tickets section by pressing the Add button.
Use the notification function in BILLmanager to receive the most important notifications via the Client → User Settings menu. Here you can opt in or out to receive notifications on low account balance, special offers and news.
ISPmanager: a server control panel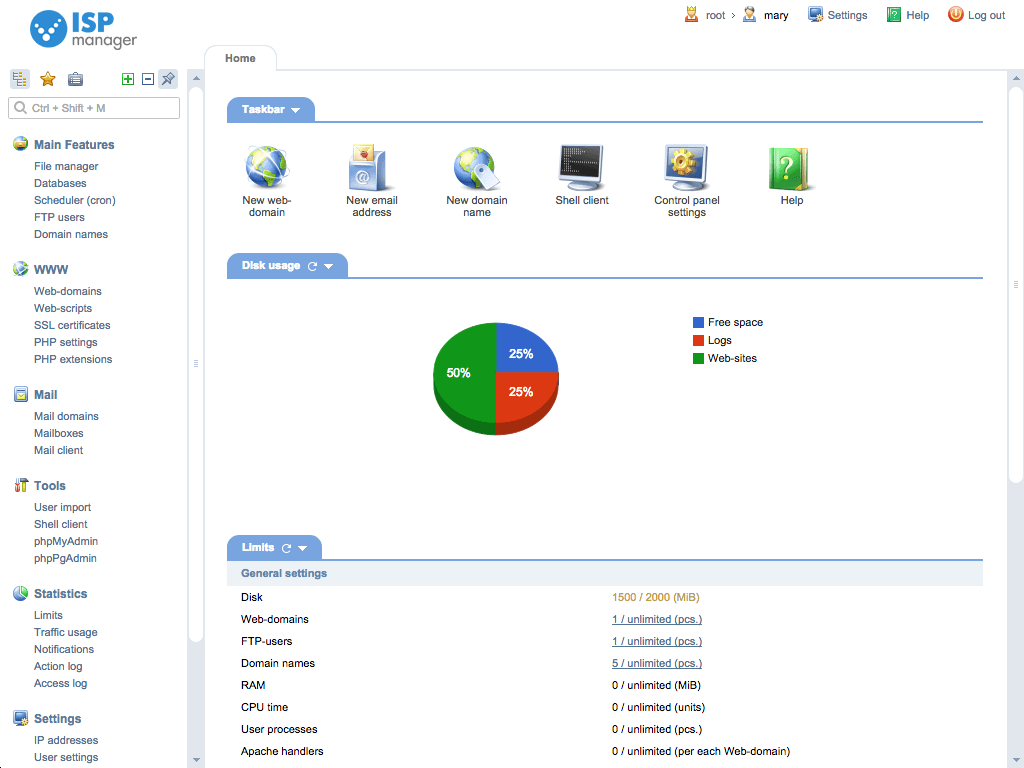 Anyone can manage their hosting service with ISPmanager, you needn't have any special skills in server administration. Due to the user-friendly interface of the control panel you will find any required function quickly.
ISPmanager is intended for management of the domains, mail, backups, databases, websites and other web projects, files, etc. ISPmanager allows you to view server statistics and set up spam protection.
You will receive access username and password to your e-mail in as little as several minutes after making a payment for a hosting service.
ISPmanager documentation
Software Product
Documentation Type
ISPmanager
Server Administrator
view
User (site admin)
view
VMmanager: a virtual container control panel

VMmanager control panel is used for management of virtual machines: VPS and cloud containers. You can use it to install an operating system, start and stop a virtual machine, or perform a restart. If VMmanager is installed on a dedicated server and you have administrator rights, you will be able to change the VPS resource allocation directly with this control panel.
In the Statistics → VM Load section you can monitor server load. If the server operating speed is low, you should consider changing the pricing plan or adding resources to the server.
Restarting the server via VMmanager is very easy, it is enough to perform the Restart command in the Management → Virtual Machines menu. You can also reinstall the operating system simply by pressing Reinstall in the same menu. After some time the operating system you select will be installed on the server.
VMmanager documentation
| Software Product | Documentation Type | |
| --- | --- | --- |
| VMmanager | User | view |
DCImanager: dedicated server equipment management
DCImanager is a panel used to manage dedicated servers. With the help of this control panel you can switch on, off and restart a dedicated server. DCImanager can also be used to reinstall the server's operating system and to view various statistics, including server load and traffic throughput.
DCImanager documentation
| Software Product | Documentation Type | |
| --- | --- | --- |
| DCImanager | User | view |
cPanel
cPanel is one the most powerful and widely used control panels for managing shared hosting services. The control panel has an easy-to-use web interface and provides a large number of features both for novices and experienced users
cPanel documentation
| Software Product | Documentation Type | |
| --- | --- | --- |
| cPanel | User | view |
How to Order a Hosting Service?
Ordering a hosting service is a simple procedure that takes no more than 5 minutes, including selection of a suitable service and its activation. The procedure consists of 6 steps.
Step 1.Choosing a service. Choose a hosting that is most suitable for your goals: a shared hosting, VPS, or dedicated server. Select a pricing plan or configure your own. You can always ask a question to the sales department specialists by calling the toll-free number. Press the Order button and proceed to the next step.
Step 2. Setting up a hosting service and checkout. In the second step of the ordering procedure you can change the additional settings of the service if necessary. Proceed to making the payment by pressing the Buy button if the server parameters have been completely configured.
Step 3. Registering an account. To gain access to the client area you need to register an account. A window will open where you have to fill in the registration details.
Step 4. Payment options. We suggest using the following payment methods: Webmoney, credit card. You can choose any of these methods in the client area. YooMoney and Webmoney complete a payment in as little as several seconds, and bank transactions take 1 to 3 days to be processed.
Step 5. Confirming the phone number. You will need your mobile phone to complete activation of a hosting service. Enter a phone number where you wish to receive a text message with the verification code. Enter this code to confirm your phone number. Now you can recover the password to your personal area in case you lose access to the email address you registered with.
Step 6. The server is ready! In just 5 minutes after we receive the payment, your server is ready!
If you have made your payment through a bank, you can send us a scanned copy of the transfer order with the bank's stamp to have the payment credited to your personal account without having to wait for it to clear. This can be done by making a support ticket from the personal area and attaching a scanned copy of the payment order to your message.
How to access ISPmanager?
Once your hosting service is active the ISPmanager panel becomes your primary hosting management tool. File upload, data management, and other basic tasks of server maintenance are performed with this panel.
All the information on how to start working with ISPmanager (the server's IP address, the data for logging in with full administrator rights, and the link to login to the control panel) will be sent to the e-mail address you specified at registration. Message will contain the name of the pricing plan you chose and the details you can use to connect and upload the files.
This information is arranged in the message in the following way:

To access ISPmanager, follow the link found in the e-mail message. Your browser will report an error (Connection May Be Unsecure), which you can ignore because in this case a self-signed SSL certificate is used to create a secure HTTPS connection. It looks approximately like this: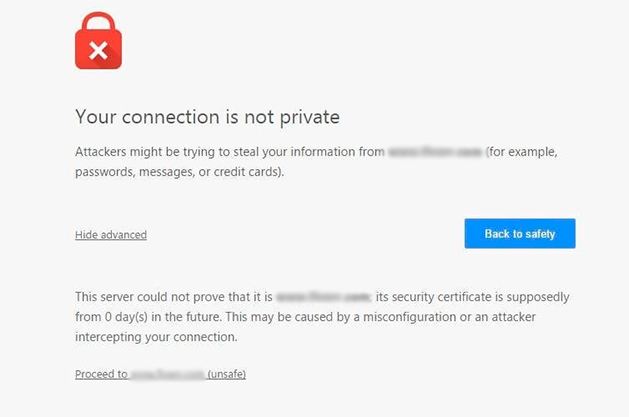 The link leads to a page to access the ISPmanager account. Enter the user data specified in the email, read the license agreement, and press "I Accept". With that the authorization process is completed, and you get to a start page of the ISPmanager control panel.