Backups: configuration, data recovery, backup storage
Backup configuration is the main top priority step after you configure new hosting or server and upload your sites to it.
Backups of your shared hosting are created automatically:
on ISPmanager hosting tariffs on Wednesdays and Saturdays; 2 full backup copies are stored for 2 weeks at least;
On cPanel hosting tariffs weekly on Sundays; 2 full backup copies are stored at least.
It is not possible to change the schedule for automatic backups. However, you can create additional backups manually from ISPmanager or cPanel.
You can enter the hosting panel from your Client Area. In the «Products/Services» — «Shared hosting» section choose your hosting from the list by the single click and press «To panel» button.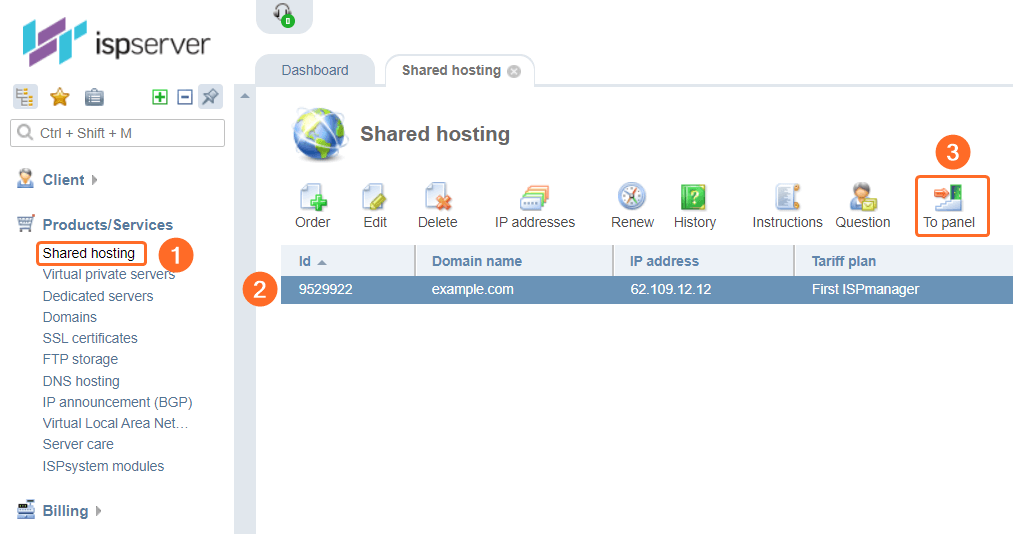 ISPmanager hosting control panel allows you to easily restore, download system backups or create a new one.
To open the backups list find «Tools» — «Backup copies» in the left menu. Here you can choose the copy by a single click and an option above.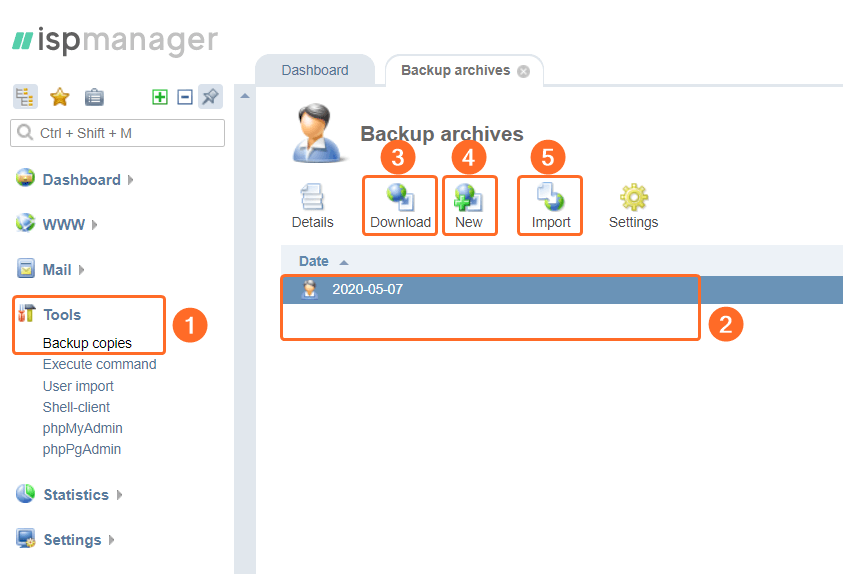 «Download» (3) option lets you download chosen backup.
A «New» (4) button creates a new backup. It can be downloaded, but if you need to delete it - please contact our support service. It is possible to create full backup copies on Sundays. These backups are marked blue in the list. For other days of the week, it is possible to create differential backups for the files that were changed since last full copy creation. These backups are marked black.
Also you can import (4) user data from ISPmanager backups from local archive, external FTP-storage or even another server or hosting.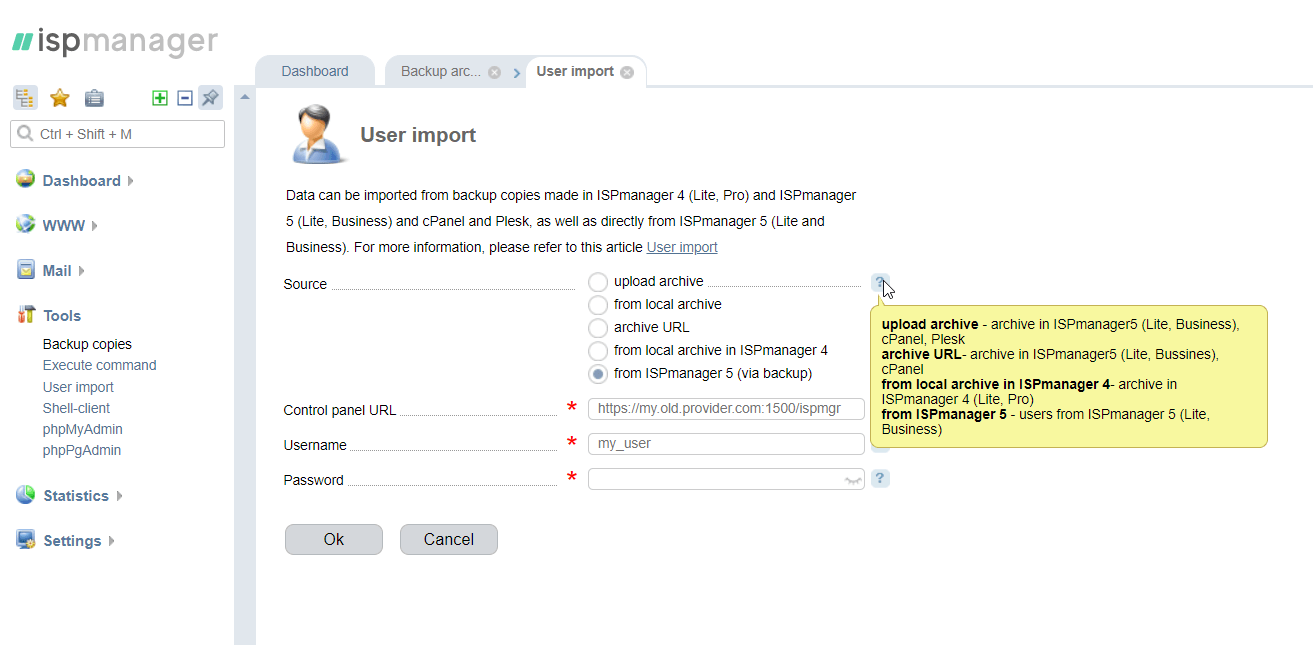 cPanel has three ways to work with backups.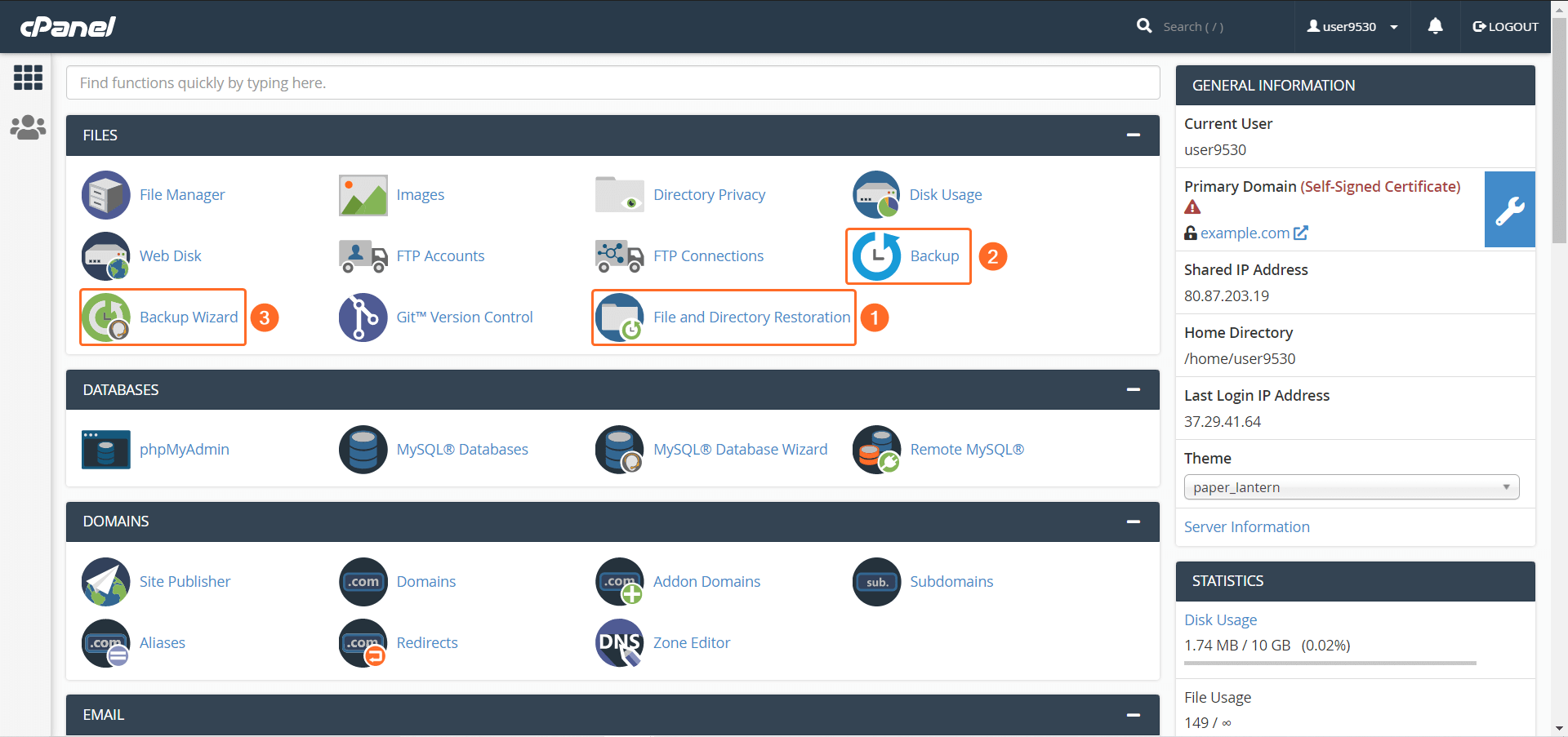 You can find and restore system backups in cPanel dashboard — «File and Directory Restoration» (1). Remember, that new system backups are created only on Sundays, so the list can be empty in the beginning.
Choose «Enter a path» option on the left
Input «/» in the text field on the left and press «Show backups»
Find the necessary backup in the list on the right and press «Restore».
«Backup» (2) and «Backup Wizard» (3) sections contain extended options to create, download, upload and restore manual backups.
For virtual and dedicated servers there is no backup by default. But it is possible to configure automatic backups manually. Just enable it in ISPmanager and the panel will create full backups once a week and create differential backups daily.
You can find ISPmanager login details in your Client Area — «Products/Services» — «Virtual private servers» or «Dedicated servers» — choose the server from the list by a single click and press «Instructions» button above.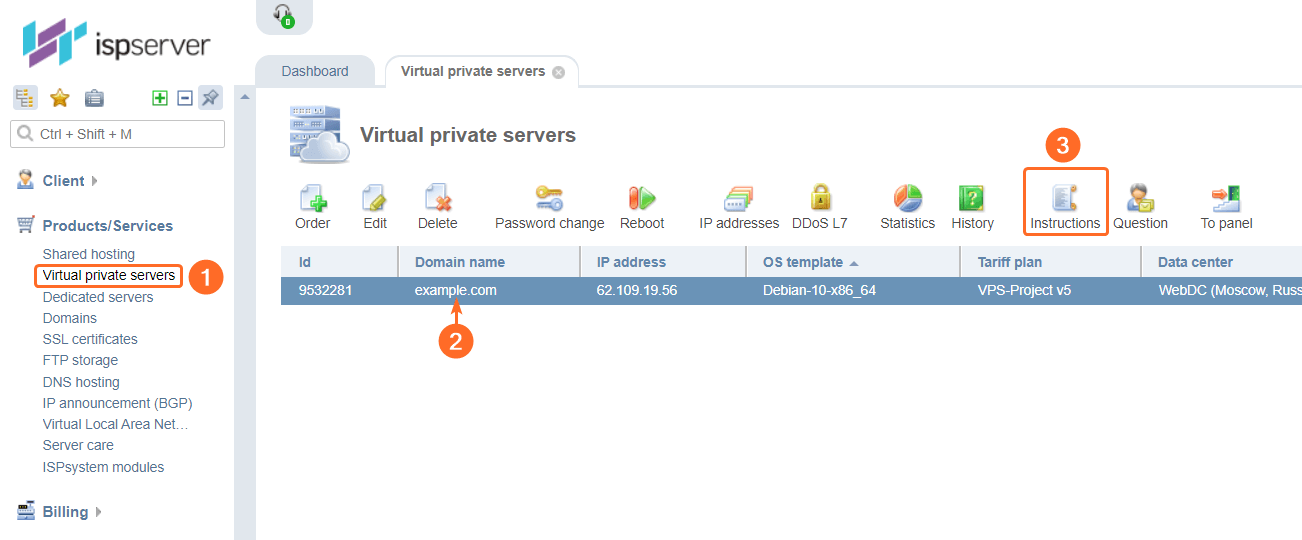 Server backups are disabled by default.
For enabling backups, please log in to ISPmanager control panel and go to «Tools» → «Backup copies». If it is the first time you do in, press «Ok» and you will see the configuration menu.

First step in backup configuration

Backup settings in ISPmanager

Click «Enable backups» (1) checkbox. Choose the «Storage type» (2). A «Local directory» means that your backups will be stored on your server and use its disk space. The better way is to use external storages — there are FTP, Amazon, DropBox, Google Drive options. «Backup copy password» (4) will let you encrypt your backup archives.

Specify the path to directory (4) on the server where you want to keep backups. You can set a subdirectory on it to separate copies of this current server. It is useful when you backup a few servers to one external storage.

«Limits» section (5) contains extended options of backup configuration. You can leave it by default.

Specify a total size for storage of your backups. It will protect you from cases when backups take all of server disk space and cause its crash. When this limit is reached, the system will rewrite one of the old copies instead of adding a new one.

Choose a number of full and daily backup copies. This setting affects storage only, as does the total backups size. This option helps you to save your server or storage disk space, if you can't increase it for some reason.

For example, if you configure 3 daily backups, you will only be able to have 3 differential backups, even if you have enough space for more. These backups will be made daily and new copies will replace the older ones so you will always have 3 latest daily backup copies.
When you finish configuring backups, the system will create backups every day saving the data in the directory you've chosen. The backup list will contain references to the backups created.
ISPmanager doesn't support Windows Server servers, so backup for it should be configured manually.
Log in to ISPmanager control panel, go to «Tools» → «Backup copies». Choose the backup copy you want to restore data from. Full backups are marked blue and differential ones are marked black. Click the «Details» button on the dashboard.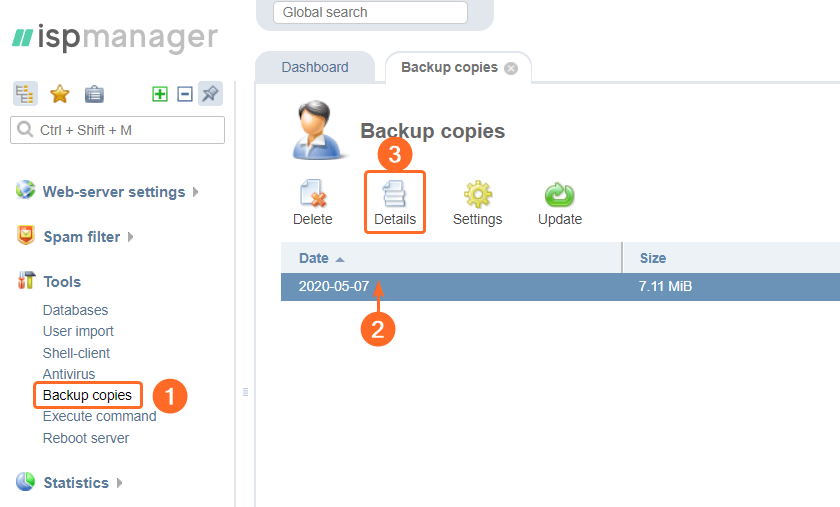 An admin (root) can configure and restore backup copies of all users on a server, while a user may only restore his own backups. Choose the user you want to restore the backup for and click the Restore button.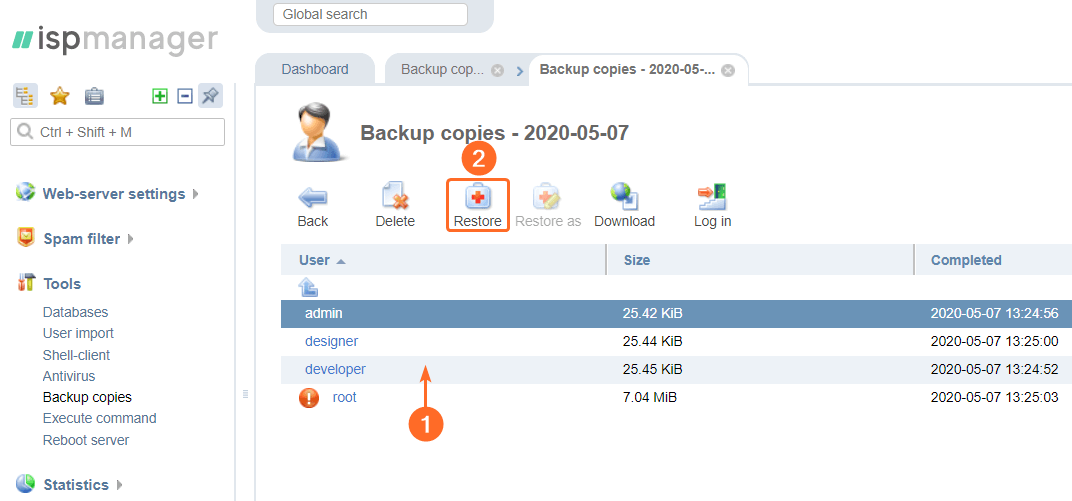 Full backups for your VDS are created once a week on Sundays, you cannot change the time of their generation. Differential copies are created daily - Monday to Saturday. Both are created at 12 a.m. (UTC). It is possible to configure the exact time for backups through Cron.
In the ISPmanager control panel navigate to «System» → «Scheduler (cron)» folder in the left menu. Find the line «ISPmanager backup task» in cron-tasks, choose it and press the «Edit» button.

Scheduler (cron) in ISPmanager

Open the task in basic mode (1) to see intuitive time settings in 24-hour format (2 and 3).

Backup schedule settings in ISPmanager
A Backup Storage service is needed when you want to secure your backups on an individual dedicated server. This server is located separately from your main server, so it is protected from any accidents on your VPS or dedicated server. The storage is accessed by the FTP protocol from ISPmanager control panel.
You may order it up to 2000 Gb for 0.1 €/Gb per month. It will protect your business from losing important data and allow you to restore the server operability in just a few hours.
If you configure backups from ISPmanager control panel, please note that the total size of backups is specified in Gibbytes and Mebibytes, this is a very important point if you do not want to allow the total size to be exceeded.
Since 1 Mebibyte = 1.04 Megabytes, 10 Gibibytes are equal to almost 11 gigabytes. This is important for the correct work of the backup module. When you indicate the maximum volume for all backups you need to downsize it a little. For example, if you have 50 Gigabytes in total, you need to specify 45 Gibibytes.
If you do not want to use all the available space for backups, you can calculate the required size using the following formulas:
Calculate the volume for keeping full backups:
The required number of full copies, which you want to storage in the same time * 1 full copy volume (if it is unknown, use the volume taken by all your sites files and databases)
Calculate the volume for keeping daily backups:
The required number of daily copies * average volume of daily copy
Add the both results and you will get the required size for backup storage.
Another, a bit less accurate way is to take your VPS disk volume and multiply it for 1.5.
These are approximate formulas, please check if they work in your case.
Order «Backup storage» service: go to your Client Area in BILLmanage, choose «Products/Services» → «FTP-storage» section and press «Order».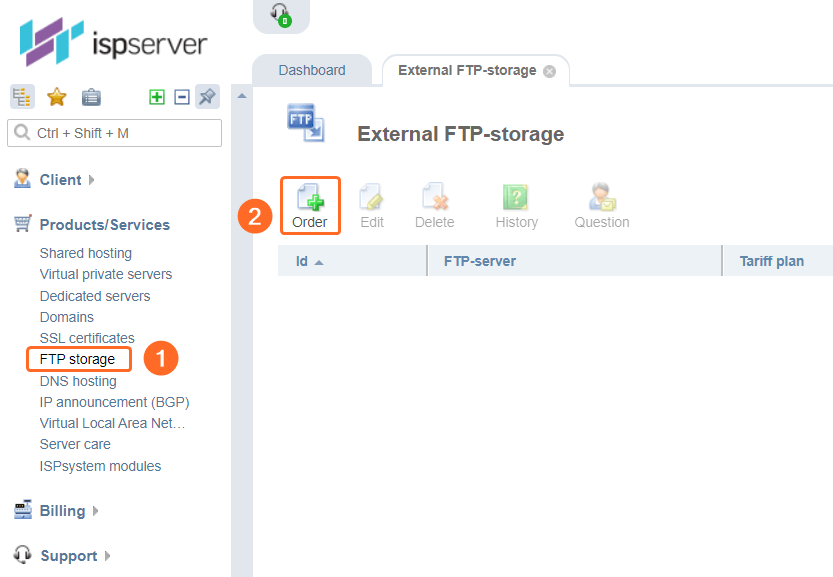 After paying for the service and its activation you can find the storage login data in your Client Area — «Products/Services» → «FTP-storage». Choose the disk and press the «Instructions» button.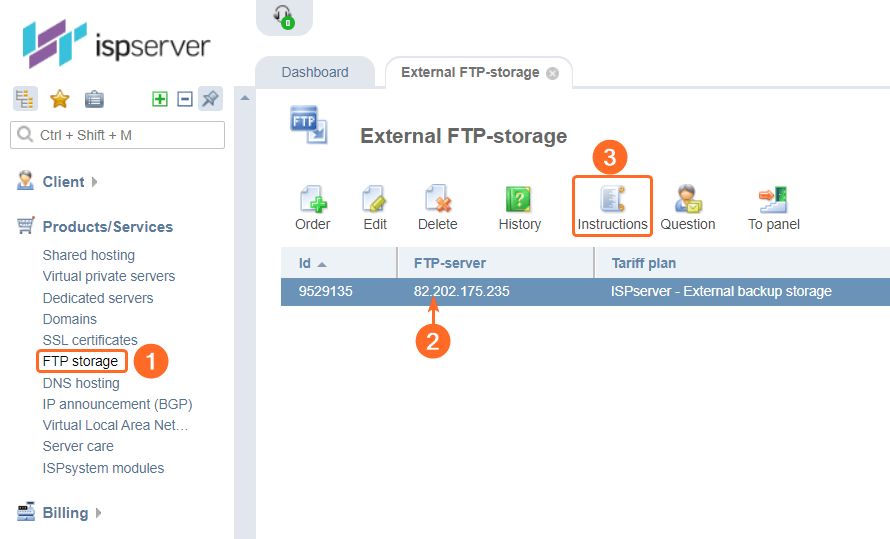 A server URL, user and password are specified in «FTP-access» section.

To configure the backups to your FTP-storage log in to ISPmanager control panel, navigate to «Tools» → «Backup copies» and press «Settings» button on the dashboard.
Check the «Enable backups» checkbox and in the «Storage type» drop list choose «FTP». In the «FTP» section below fill in «Server URL», «User» and «Password» fields with the data you got after buying the backup storage. Add «Limits» if you need and press «Ok».