HDD and SSD drives: drive types and interfaces comparison
HDD and SSD drives: drive types and interfaces comparison
There are two types of drives: HDD (hard disk drive) and SSD (solid-state drive).
HDD
HDDs are installed in most PCs and laptops. There are several aluminium plates inside the drive. Reading and writing operations are performed due to rotation of the plates and the sensing head located at a few nanometers. The speed of the plates can be as high as 15,000 revolutions per minute which results in the common noise during operation. These drives have become popular because they provide a lot of space (up to 4 TB on a single HDD), high reliability and stability during reading and writing operations.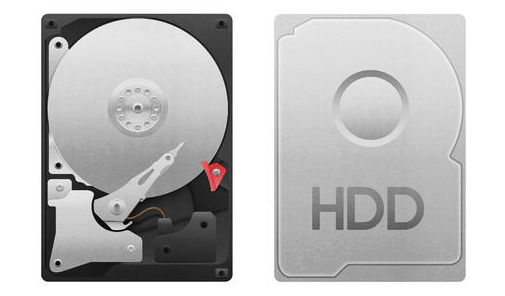 Disadvantages of HDDs as compared to SSDs:
low speed of reading/writing operations

high power consumption

high noise level
HDDs are suitable for operations which do not involve frequent reading or writing of data: setting up data storages, backup systems, mail servers, video streams or servers for virtual machines.
SSD
SSDs use memory chips and since they do not have any rotating elements, they are completely silent, consume less power and are smaller than HDDs.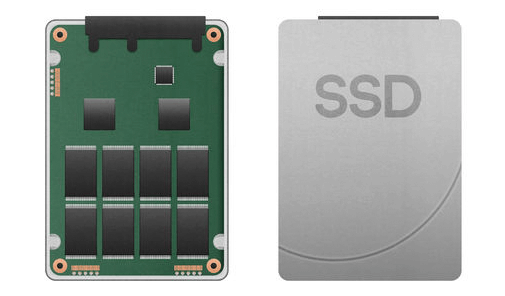 Reading and writing operations are performed faster in SSDs (files are opened, saved and deleted faster).

The relation of the data transfer rate to the size of the transmitted data block is defined by IOPS (Input/Output Operations Per Second). IOPS shows the number of blocks which can be read/ written per second. For reference, in HDDs this parameter is about 80-100 IOPS, while in SSDs it is more than 8,000 IOPS.


However, each rewriting cycle burns the drive out which shortens its service life.
SSDs are suitable for high-load projects with numerous reading and writing operations. SSDs increase the speed of a website developed on any modern CMS.
In order to connect a drive to a server, a drive interface is used.
Interfaces for connecting HDDs
SATA
SATA (Serial Advanced Technology Attachment) is a serial interface for connecting drives. SATA interface handles large data volumes at a low speed. This factor, along with its low price, is the reason why it is now commonly used in PCs and server hardware. The speed of SATA interface is up to 600Mb/sec with the throughput of 6Gb/sec. HDDs with SATA are suitable for:
workflow operations, for example, video coding

data storage

backup system

large but not high-load file servers
Drives can be connected via SATA interface on any Intel server (Core i3/i5/i7, Intel Atom, Xeon E3/ Xeon E5, 2 x Xeon E5)
SAS
SAS-(Serial Attached SCSI) – is a serial interface for connecting hard disk drives which is based on SCSI command sets. SAS interface operates at a rate up to 1,200Mb/sec. with the throughput up to 12 Gb/sec. HDDs connected via SAS interface are suitable for high speed operations with numerous rewriting cycles as well as:
database management systems (DMS)

high loaded web-servers

distributed systems

systems handling numerous queries — terminal servers, 1C-servers.
The disadvantage of SAS is its high price.
SAS interface is available in 2 x Xeon E5 servers.
Interface for connecting SSDs
SSDs can also be connected via SATA interface. SSDs connected via SATA transmit data at the rate up to 6 Gb/sec.
Some SSDs are connected to the server's PCIe bus directly, hence the name of the interface for SSDs — PCIe-SSD. However, such drives are several times more expensive, so they are not so popular now.
SSDs can also be connected on Intel servers Xeon E3/ Xeon E5, 2 x Xeon E5.
Which drive to choose?
The choice of a drive depends on a particular task. We have made a brief lookup table which will help you to determine quickly which type of drive and which drive interface suits your task best.
| | | |
| --- | --- | --- |
| Task | Drive type | Interface |
| Video coding | HDD | SATA |
| Data storages | HDD | SATA |
| Backup systems | HDD | SATA |
| Large but not high loaded servers | HDD | SATA |
| Database management systems (DMS) | HDD | SAS |
| High loaded web servers | HDD | SAS |
| 1С server | HDD | SAS |
| High-load projects | SSD | SATA |
| CMS | SSD | SATA |