Data centers
Our servers are located in three data centers:
WebDC in Moscow
IXcellerate Tier III data center in Moscow
Hetzner data center in Nuremberg, Germany
WebDC. Moscow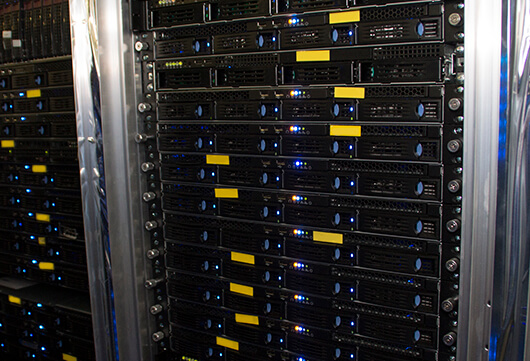 Our own data center is located in the Moscow region. It is equipped with servers based on Intel and AMD processors. We keep an eye on technological innovations and regularly update equipment to maintain the high quality of our services. Having our own data center, allows us to provide flexible infrastructure solutions for our clients.
Network infrastructure
Six channels with a total capacity of 60 Gb/s are connected to the data center:
«GlobalNet» JSC (Global-IX) 10 Gb/s
«MSK-IX» JSC 10 Gb/s
«Digital Network» JSC (MSM) 10 Gb/s
«Mastertel» JSC 10 Gb/s
«FORTEX» JSC 10 Gb/s
«DDoS-Guard» LLC 10 Gb/s
The network is designed to provide the most stable connection. Disabling one of the channels will not affect the data transfer/receiving rate, as the load will automatically be distributed among the other connections. The entire network infrastructure is powered by Juniper Networks hardware.
Security
The security service provides round-the-clock monitoring of the entire data center using monitoring and video surveillance systems. Servers can only be accessed by operators who are on duty 24 hours a day, including weekends and holidays.
In case of any emergency, the data center is equipped with an automatic alarm and gas-based fire extinguishing system.
Power supply
Four power supplies provide the data center with uninterrupted electricity. Every element of the power supply system is reserved under the N+1 scheme. The central power supply is supplemented by two independent diesel generator plants to increase the fault tolerance of the system. If one of them fails, the second will immediately replace it. Backup power is enough for at least 6 hours of the normal operation of all equipment.
Microclimate maintaining
To maintain climatic conditions in the data center we use Emerson Liebert HIROSS HPM series air conditioning system. It combines various methods of cooling, humidifying, and drying air for the most efficient operation.
IXcellerate, Moscow Two data center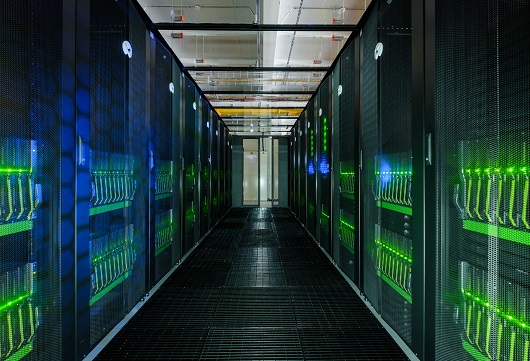 Our servers are located in Tier III IXcellerate Moscow Two date center. Thanks to a fault-tolerant infrastructure, the data center provides 99.999% uptime and allows you to maintain and replace equipment without suspending servers.
Network infrastructure
Within the data center, our specialists designed a scalable Leaf-Spine network architecture powered by Juniper Networks equipment. It allows us to quickly add new switches and monitor network load, providing a reliable connection. Leaf-Spine is also highly redundant.
Internet access is provided by four channels with a total capacity of 100 Gb/s: DDoS-GUARD, Fortex, MSK-IX and Eurasia Peering.
Security
The data center is under 24-hour security and equipped by modern monitoring, video surveillance, and alarm systems. Only DC operators having electronic keys can access the equipment. Before doing this, they must pass several security posts and biometric verification.
The fire protection system of the data center can catch the smallest particles of smoke and is able to detect combustion in less than a minute. Besides automatic detectors from Vesda and Apollo, it is also equipped with a unique HI-FOG water mist fire extinguishing system from Marioff, which allows eliminating exact sources of fire and smoke.
Power supply
An uninterruptible power supply system is built under 2N redundancy scheme. It means that two independent power supply channels are connected to the data center. If one of them fails, it will be instantly replaced by the second. In case of accidents on both channels, the data center is equipped with an additional uninterruptible power supply and a diesel generator unit, which is able to provide power to all equipment for three days without refueling.
Microclimate maintaining
Thanks to the monitoring and remote control systems, stable temperature conditions are always maintained in the data center. The precision air conditioning system based on Vertiv Liebert provides a high level of energy efficiency by taking into account seasonal changes. It saves up to 40% of electricity in winter. Freon is used as a refrigerant. Every element of the system is reserved under N+1 scheme, so even if one element fails, the system continues working and maintaining an optimal microclimate.
Hetzner data center. Nuremberg, Germany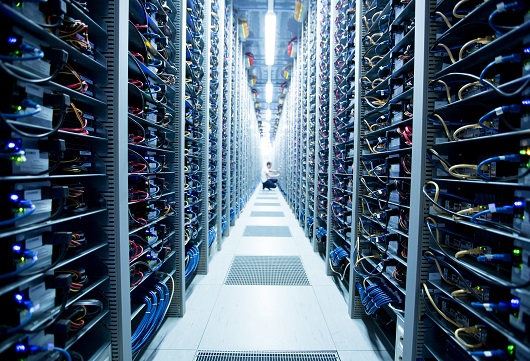 Hetzner is a German data center that provides a reliable infrastructure for web hosting. It provides all the necessary conditions for efficient and uninterrupted operation.
Additional uninterrupted power supplies and a diesel generator are installed to reserve the power supply in the data center.
A stable microclimate is provided by an air conditioning system installed under hollow floors. Elements are reserved under the N+2 scheme.
Fire safety is provided by an automatic detection system, which instantly alerts the fire department.
The territory of the data center and access roads are under 24 hours video surveillance. In order to get into the hall with equipment, all visitors and clients must pass through an electronic access post.